How Backyard Spaces have Transformed Over the Years
Posted by Levy Wilson on Tuesday, September 11th, 2018 at 10:46am.
Whether you enjoy outdoor entertaining or have a love for gardening, backyard spaces continue to transform as new trends flourish. From landscaping to outdoor amenities, homeowners are investing more than ever in their backyards. Today, the backyard is less about the extra lot of land and more of an extension of the home. Here is a look at how backyard spaces have changed since Long & Foster was founded in 1968.
Landscaping: "The emphasis on landscaping has changed drastically over the years – from the bare basics to much more extensive designs," said Dave Reed, vice president of the Landscape Department of Meadows Farms Nurseries & Landscape. While annuals and woody shrubs continue to be used in backyard landscaping, perennial plants are much more popular amongst homeowners today. Perennials come in various colors, sizes and looks, and they bloom for a longer season. Mulch is used in most backyards for both its intended purposes and as a decorative ground cover. Shredded hardwood natural color mulch is what Meadows Farms recommends using, yet ever since dyed mulch was introduced, it has become increasingly popular, explains Reed.
Patios and Walkways: From poured concrete to complex designs, patios and walkways have come a long way over the years. Pennsylvania blue stone used to make up of about 90 percent of the patios and walkways Meadows Farms installed, whereas now it is probably used only 25 percent of the time, suggests Reed. Today, individual concrete pavers are leading the way – prominently used because it is a less expensive alternative, offering different styles and colors. There is a concrete paver that will mimic almost any and all materials, so if a homeowner has a particular look in mind, it is easy to accomplish – not to mention, its durability is unmatched. "For example, a concrete paver that looks like brick is more durable and less expensive than actual brick," said Reed. See our featured listing on Kentmere Parkway in Rockford Park.
Outdoor Amenities: Backyard spaces are largely used for outdoor entertaining. Desired amenities, from built-in grills and outdoor kitchens to screened-in porches and outdoor fireplaces, are on an upward trend. Whether they're preparing to sell or merely want to enjoy their backyard space, homeowners are adding more and more of these outdoor features to their home. "While people have always liked an outdoor area to eat and entertain, it was pretty minor back in the days – they might have had a freestanding grill on their deck," said Reed.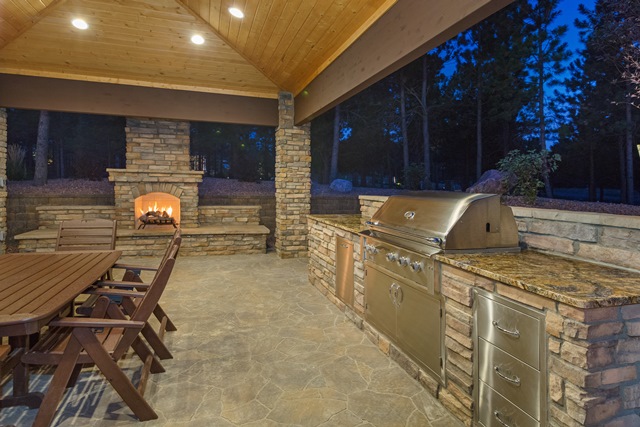 Throughout the years, backyard spaces have transformed drastically. From simple to complex and sophisticated, landscaping, patios and walkways, decks and outdoor amenities have really taken off. It may be worth the investment as the interest for outdoor living continues to increase. Search Levy Wilson's featured listings.
Leave a Comment